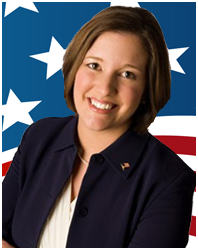 A native of Garden City, Kansas, Stephanie Sharp was elected to represent Lenexa and Shawnee in the Kansas House of Representatives in November 2002 at age 27. She launched the Sharp Record e-newsletter to inform Kansans on activity at the Kansas Statehouse in a cost- and time-efficient way. The newsletter boils down complicated political and legislative procedures to explain their impact on voters' everyday lives.
The Sharp Record grew in popularity and by 2004, Stephanie began helping colleagues communicate with their constituents. To view previous editions and learn more about her, visit www.StephanieSharp.com.
Stephanie left the legislature in 2008 to further her career and start a family. In 2009, she was elected to the Johnson County Community College (JCCC) Board of Trustees, was re-elected in 2013, and was the highest vote-getter in both elections. Sharp Connections, LLC was founded in 2011 to serve the communications needs of state and local elected officials to help them in "Translating Politics Into English" for their voters.
For more information about Sharp Connections, LLC, please contact Stephanie: stephanie@sharpconnections.biz.